HENDERSON MUNICIPAL SNOW PLOW WINGS
A primary focus of Henderson Products is manufacturing premium snow plows of all shapes and sizes, built for use with class 3 to class 8 chassis. Our designs include reversible snow plows, one-way snow plows, flexible moldboard snow plows, expressway snow plows and even a squeegee blade attachment for clean up after the initial push. If you're looking for Henderson new and used snow plow dealers, snow plow parts, snow plow mounts, snow plow blades or snow plow accessories, click on the "Contact Us" link at the top of any page.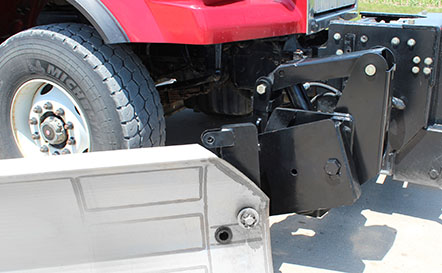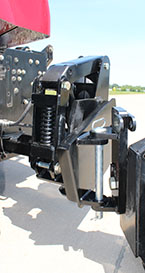 ROTATIONAL FLOATING WING MAST
Smart Link incorporates float and rotation to provide the moldboard with a natural trip. A Smart Link mast enjoys effortless conformance to varying road conditions, virtual loss of toe dig, the elimination of mast/slide binding, the elimination of violent wing kick, a huge reduction in applied side load forces and 11" of float.
The Smart Link's low profile design immediately improves a driver's line of vision, offers easy access to the engine compartment and allows for mounting behind the cab. The Smart Link fits conveniently underneath most municipal body styles. Retrofit kits are available.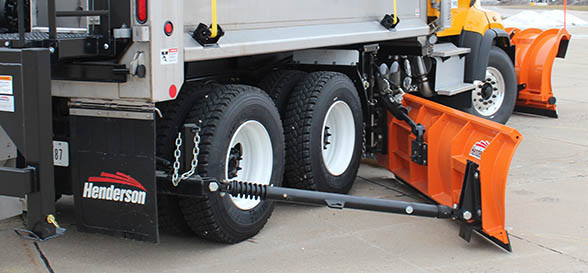 HENDERSON WING SYSTEM
The HWS (Henderson Wing System) features an extreme-duty fabricated I-beam mast as standard. It also has 3-postition pin float adjustment to the base of the mast, compensating for truck sag. The super-duty king pin offers extreme durability and a handle that offers ease of maintenance, the Dee accommodates non-trip, trip and front heel lift designs. Couple these features with multiple location configurations, adjustable ribs, several moldboard options and you have a superior wing system. When it comes to front-, mid- or rear-mount wings systems built around Midwest plowing operations, the HWS rules them all.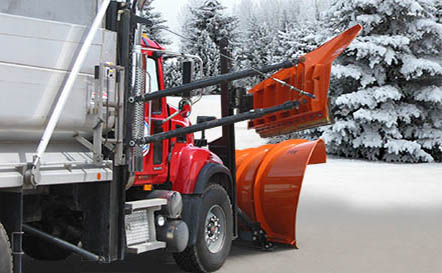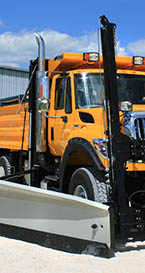 SD SEVERE-DUTY LEVELING WING
The Severe Duty Leveling Wing complements Henderson SNOWFOE plows, MuniBodies and sand & salt spreaders to help you show inclement weather who's boss. It removes or "benches back" heavy snow.
As expected, it's made with the same exemplary design features and build quality as with the complete Henderson snow & ice control product line. This starts with the formed 7 gauge steel moldboard for superior wear and increased strength to withstand the most vigorous winter conditions.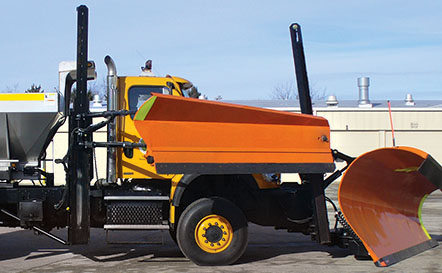 SDH SEVERE-DUTY HYDRAULIC LEVELING WING
The Severe Duty Hydraulic Leveling Wing removes or "benches back" heavy snow. The 'SDH' Leveling Wing is easily deployed to reduce crew fatigue. Three hydraulic cylinders provide complete fingertip control of the moldboard's heel and toe. This allows the ultimate in snow removal for varying conditions.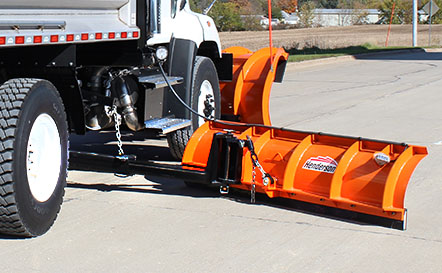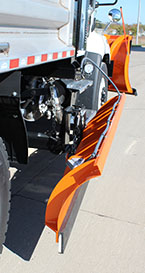 EXTENDED MID-MOUNT WING
In your search for a wing that is easy to operate and easy to see, the Henderson Extendable Wing is the perfect choice. Whether you are just trying your first wing system or have a fleet of professional wing operators, the fact that this wing takes up less chassis frame rail and tucks back with less clearance issues is a welcomed change. This is a simple effective addition to extend the reach of your plow truck gets in each pass.
For more information on the complete line of Henderson Products Snow and Ice Control Equipment, call Henderson Products at 800-359-4970.
Copyright © 2018 Henderson Products, Inc., a division of Douglas Dynamics, Inc. All Rights Reserved.