HENDERSON BRINEXTREME® FLEX TRUCK FILL STATION - MUNICIPAL SALT BRINE TRUCK AND TANK FILLING STATION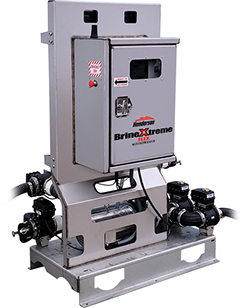 Now with variable flow rates!
20 to 200 GPM
Standard 2-product stack capability
Optional 4-product stack capability
100% AUTOMATED CONCENTRATION MANAGEMENT & REPEATABILITY
HANDLES TREATED OR UNTREATED ROCK SALT WITH EASE
INDUSTRIAL GRADE COMPONENTS - STAINLESS STEEL CONSTRUCTION
COMPLETE SALT BRINE BLENDING & TANK-TO-TRUCK MANAGEMENT

TRUCK FILL STATION
Professional Grade Brine Management
The BrineXtreme Truck Fill Station is a highly accurate, state-of-the-art truck and/or tank loading and blending station. It functions independently of your brine maker and liquid tanks to produce customized anti-ice liquid blends for any winter road condition. BrineXtreme Advantage Pro and BrineXtreme Infinity Mobile users with Pro controls can upgrade their system with this versatile stand-alone station. Gain full control and complete your brine blending experience with the ability to stack blend up to 4 products, record liquid output, and more. Available in 2-product and 4-product models.
Capabilities:
- Modular design
- Plug-n-play installation
- Blending: up to 2 or 4 products
- Add multiple users - password protected
- Keypad and LCD touch screen display
- Remote access via cellular gateway
- Flow rates of 20 to 200 GPM
- Dimensions: 55" x 71" x 35"
- Approx. weight: 750 lbs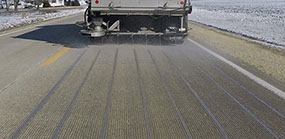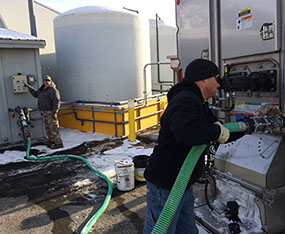 HENDERSON SUPPORTS RESPONSIBLE SALT USE FOR ECOLOGY & ECONOMY
Sustainable snow and ice control should go hand-in-hand with ecological stewardship
Anyone living in a snow belt state, where pothole dodging has become a survival skill, realizes we have serious issues with our roads and bridges. And what the public is becoming increasingly aware of is...read more>>
For more information on the complete line of Henderson Products Snow and Ice Control Equipment, call Henderson Products at 800-359-4970.
Copyright © 2018 Henderson Products, Inc., a division of Douglas Dynamics, Inc. All Rights Reserved.