HENDERSON CLASS 8 MUNICIPAL REVERSIBLE SNOW PLOWS
A primary focus of Henderson Products is manufacturing premium snow plows of all shapes and sizes, built for use with class 3 to class 8 chassis. Our designs include reversible snow plows, one-way snow plows, flexible moldboard snow plows, expressway snow plows and even a squeegee blade attachment for clean up after the initial push. If you're looking for Henderson new and used snow plow dealers, snow plow parts, snow plow mounts, snow plow blades or snow plow accessories, click on the "Contact Us" link at the top of any page.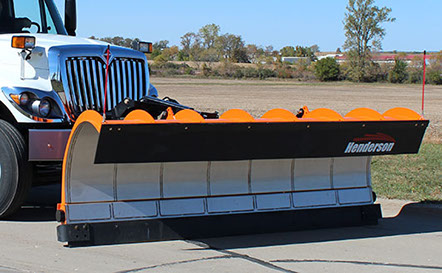 Our state-of-the-art Reversible Snow Plow. The RSP manhandles snow and ice with a unique design that keeps its nose to the grindstone even in the most demanding conditions. Yet it's priced to stay within budget. Available as a full-trip or trip-edge design, in stainless steel or carbon steel.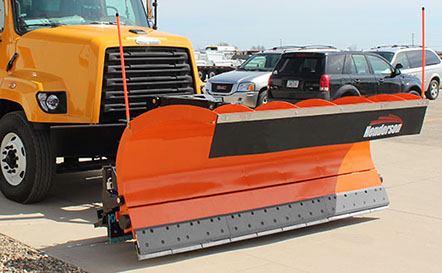 REVERSIBLE SNOW PLOW WITH OUTBOARD CYLINDERS
The RSP-OC is a Reversible Snow Plow, controlled by dual Outboard Cylinders. Its trip edge provides the reliability needed to withstand today's tough road conditions. The clean box shaped A-frame offers superior strength, while minimizing pocket areas that commonly catch salt and other corrosion causing chemicals.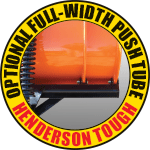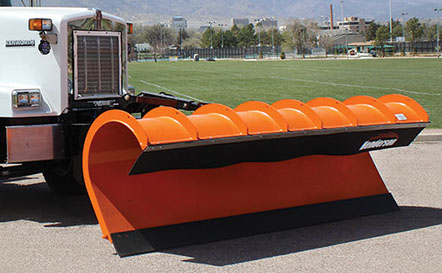 REVERSIBLE SNOW PLOW WITH SLOTTED TRIP
The RSP-ST is our Slotted Trip Reversible Snow Plow, designed with a much flatter cutting edge angle. This design allows for use at higher rates of speed. It's ability to overcome larger obstacles, makes it one of the safest plows roaming our streets today.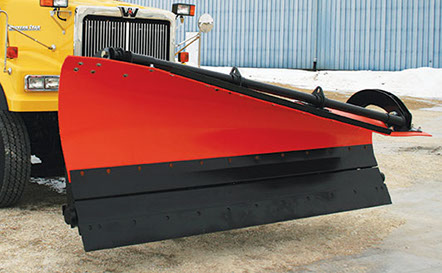 REVERSIBLE SNOW PLOW WITH FLEXIBLE MOLDBOARD
The RSP Flex offers customers a flexible moldboard, capable of adapting to snow conditions on-the-fly. This true reversible snow plow is powered by its outboard cylinders, controlling the direction of cast. Change from a conventional snow plow to a one-way snow plow (left or right) in a moments notice. It was also designed to fit all Henderson hitch styles.
Last, but not least, you'll enjoy the option of adding Henderson's Squee-G wiper blade system to meet your slush removal requirements.
For more information on the complete line of Henderson Products Snow and Ice Control Equipment, call Henderson Products at 800-359-4970.
Copyright © 2018 Henderson Products, Inc., a division of Douglas Dynamics, Inc. All Rights Reserved.