HENDERSON BLACKBELT® MAXX CLASS 7 - 8 COMBINATION / MUNICIPAL BODY




ALL-SEASON MULTI-PURPOSE COMBINATION BODY
The BlackBelt® Maxx is the ultimate combination body. It delivers advanced anti-ice, deicing and material handling capabilities with large capacities to match. In a class all its own, Henderson has poured decades of manufacturing expertise and work truck technology into this phenomenal all-season multi-purpose combination body.
With it's full live bottom belt conveyor, the BlackBelt Maxx's capabilities include: anti-ice applications, deicing applications, pre-wet applications, salt slurry generation, material hauling and high volume material conveying, perfect for feeding asphalt pavers or for shouldering projects.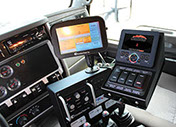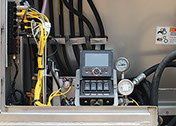 Standard control panel
B-Maxx™ Command operates the belt (unload/stop/reverse) and tailgate (up/down). This control panel can be interchangeably mounted in the cab or at the back of the body quickly and easily with simple plug-and-play connections.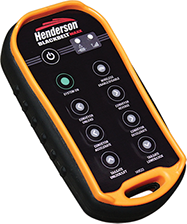 Wireless remote (optional) overrides the standard control panel operates the belt (unload/stop/reverse) and tailgate (up/down). This remote allows the user to move freely around the truck body while operating the belt and tailgate.
Note: the TGS auger and spinner are operated by the TGS controller.
For more information on the complete line of Henderson Products Snow and Ice Control Equipment, call Henderson Products at 800-359-4970.
Copyright © 2018 Henderson Products, Inc., a division of Douglas Dynamics, Inc. All Rights Reserved.