HENDERSON CLASS 6 - 8 FLAT FLOOR COMBINATION / MUNICIPAL BODY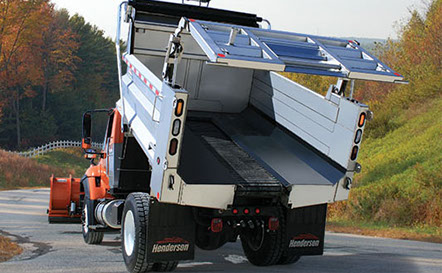 HEAVY-DUTY FLAT FLOOR COMBINATION BODY
Product design covered under one or more US Patents:
6,394,735 6,585,472 6,761,525
6,945,482 9,233,633
The flat floor MUNIBODY® is the champ when you're looking for maximum hauling capacity. This versatile body delivers the lowest center of gravity in the combination body class, is a year-round work horse and is designed for use with class 6-8 chassis. The flat floor MUNIBODY® successfully bridges the gap between dump and combination bodies offering superior material handling capabilities with a live conveyor bottom. Ask about our Hi-Tech Wedge Tank™ option for liquid application capabilities: anti-ice, slurry, pre-wet and precision cast.
For more information on the complete line of Henderson Products Snow and Ice Control Equipment, call Henderson Products at 800-359-4970.
Copyright © 2018 Henderson Products, Inc., a division of Douglas Dynamics, Inc. All Rights Reserved.