HENDERSON CLASS 5 - 7 SNOW PLOWS
A primary focus of Henderson Products is manufacturing premium snow plows of all shapes and sizes, built for use with class 3 to class 8 chassis. Our designs include reversible snow plows, one-way snow plows, flexible moldboard snow plows, expressway snow plows and even a squeegee blade attachment for clean up after the initial push. If you're looking for Henderson new and used snow plow dealers, snow plow parts, snow plow mounts, snow plow blades or snow plow accessories, click on the "Contact Us" link at the top of any page.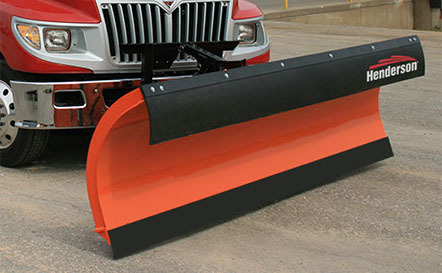 MID-SIZE REVERSIBLE SNOW PLOW
The MSP is a Mid-size Reversible Snow Plow. Get heavy duty, snow moving muscle for your mid-size truck. Its strong, rolled moldboard literally rolls snow away with ease and remains level on any road condition.
Electric Control Available!
For more information on the complete line of Henderson Products Snow and Ice Control Equipment, call Henderson Products at 800-359-4970.
Copyright © 2018 Henderson Products, Inc., a division of Douglas Dynamics, Inc. All Rights Reserved.