HENDERSON CLASS 7 - 8 COMBINATION / MUNICIPAL BODY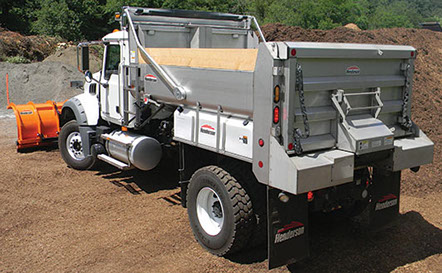 22° HEAVY-DUTY COMBINATION BODY
Product design covered under one or more US Patents:
6,394,735 6,585,472 6,761,525
6,945,482 9,233,633
The MUNIBODY® 22° is quite possibly the most well-rounded municipal combination body on the market. It offers high capacity hauling, self-cleaning design, has a very low center of gravity and easily handles a wide range of material. Designed for use with class 7-8 chassis, this model is perfect for most common municipal tasks. Be sure to inquire about adding liquid and precision cast capabilities. The MUNIBODY® 22° is an excellent live conveyor bottom year-round work truck body for material handling or winter snow and ice control.

For more information on the complete line of Henderson Products Snow and Ice Control Equipment, call Henderson Products at 800-359-4970.
Copyright © 2018 Henderson Products, Inc., a division of Douglas Dynamics, Inc. All Rights Reserved.