HENDERSON MUNICIPAL DUMP BODY HOISTS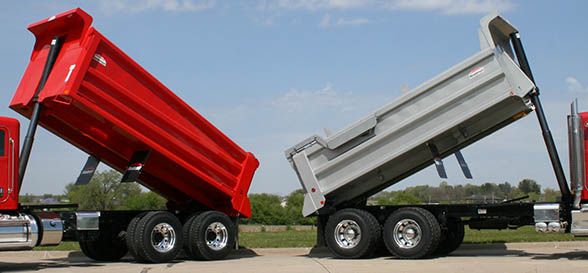 HYDRAULIC TELESCOPIC DUMP BODY HOIST
Henderson's telescopic hoists are available in internal or external mounting, based on your personal preference. They are also available in single acting (power up) or double acting (power up and down) function. Our telescopic hoists will help you achieve the lowest possible center of gravity and working height.
The external hoist has the option of adding our full width hydraulic frame cradle. The frame cradle provides a central location and easy access to all your hydraulic components that would typically mount along side the frame rail. Free up frame rail real estate for battery boxes, tool boxes, etc...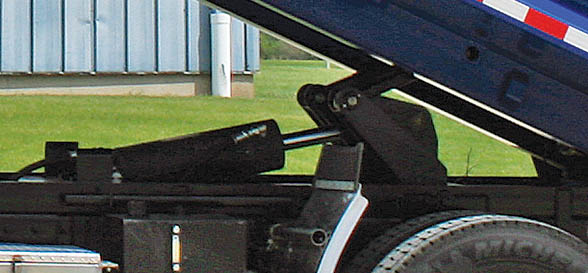 HYDRAULIC DUMP BODY HOIST
Henderson offers two traditional underbody hoists for single axle work trucks, the 7-17 & 8-17. Both using a single cylinder thrust arm and capable of reaching a max dump angle of 50°.
The 7-17 utilizes a 7" diameter cylinder with a 17" stroke and ¾" O-ring port. The 8-17 utilizes a 8" diameter cylinder with a 17" stroke and ¾" O-ring port.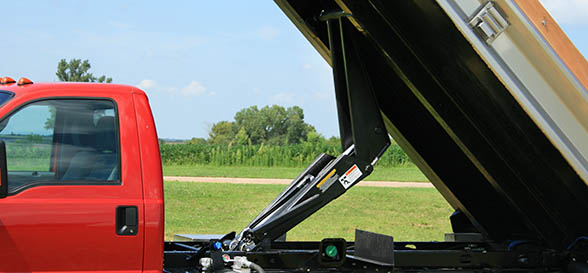 HYDRAULIC DUMP BODY SCISSOR HOIST
True to Henderson's commitment to building rugged, muscular dump truck bodies, the Bench Press Scissor Hoist has muscle to spare. This unit is available in three models to match body size and load capacity. Body length applications range from 8' to 16', with load capacities up to approximately 30 tons depending on body size and mounting configuration.
Low profile construction provides lower center of gravity and greater load handling stability. The integral body guides eliminate body rocking and all three models are available with sub-frame, offering a low 4" or 5" profile.
For more information on the complete line of Henderson Products Snow and Ice Control Equipment, call Henderson Products at 800-359-4970.
Copyright © 2018 Henderson Products, Inc., a division of Douglas Dynamics, Inc. All Rights Reserved.